Welcome to Carleton High School- a great school and a very special place to be! 
Carleton High School is not just another secondary school - it is a thriving, high performing and successful place where students grow into the very best version of themselves.
As Headteacher, I have a passion for education and a vision to deliver 'a first-class education to all students so that they make outstanding progress and get the chances in life they deserve.' I feel privileged that this passion is shared by my phenomenal team of talented staff; who do 'whatever it takes' to make this vision a reality.
Our ethos is summarised through our mantra, Culture + Consistency = Excellence. Put simply, this means that we have an achievement focussed culture where we do not put a ceiling on what our students can accomplish. This really matters; academic results open doors for our young people.  We aim to be consistent in our approach to everything that we do, never compromising on our high standards so that all our students, no matter what their starting point or circumstance, thrive and achieve their absolute best!
We are an Ofsted 'good' school and are firmly on a trajectory to be rated Ofsted 'Outstanding' at our next inspection. We are proud to be one of the highest performing schools in the Wakefield authority and are ranked in the top 1% of schools in the whole country for improvements in student progress. On top of this, our highest achieving student last year scooped a jaw dropping nine grade 9s and a distinction*- well done Spencer!  At Carleton we aim to make success inevitable.
As Headteacher, I am also proud of the impeccable behaviour of our incredible students who enjoy excellent teaching and learning, exceptional pastoral care, a broad and balanced curriculum, and work in a learning environment with superb facilities on our modern, attractive site. Our students really are the heart of what makes Carleton a special place to be.  We live and breathe our student values of respect, responsibility, determination and excellence. These values reiterate positive attitudes to build character and alongside our curriculum, we ensure our students leave us with a high level of knowledge, a vast expanse of skills, and develop into well rounded citizens, who are well prepared for their next steps in life.
We are passionate about the impact that activities outside the curriculum have on our students too, and encourage all members of 'Team Carleton' to immerse themselves in the full life of the school. We provide them with valuable opportunities for character development, leadership, educational visits, extra-curricular clubs and so much more! This is so our students can discover new interests, develop existing ones, and further develop their character and wider personal skills.
And finally, I know that there is no substitute for seeing the school for yourself, chatting to our amazing students and staff; and feeling the 'buzz' of the atmosphere in the corridors and classrooms. However, I do hope that the website and our Twitter page @PATCarletonHigh, will give you a flavour of what we are all about and the many opportunities available here.
Mrs J Cross
Headteacher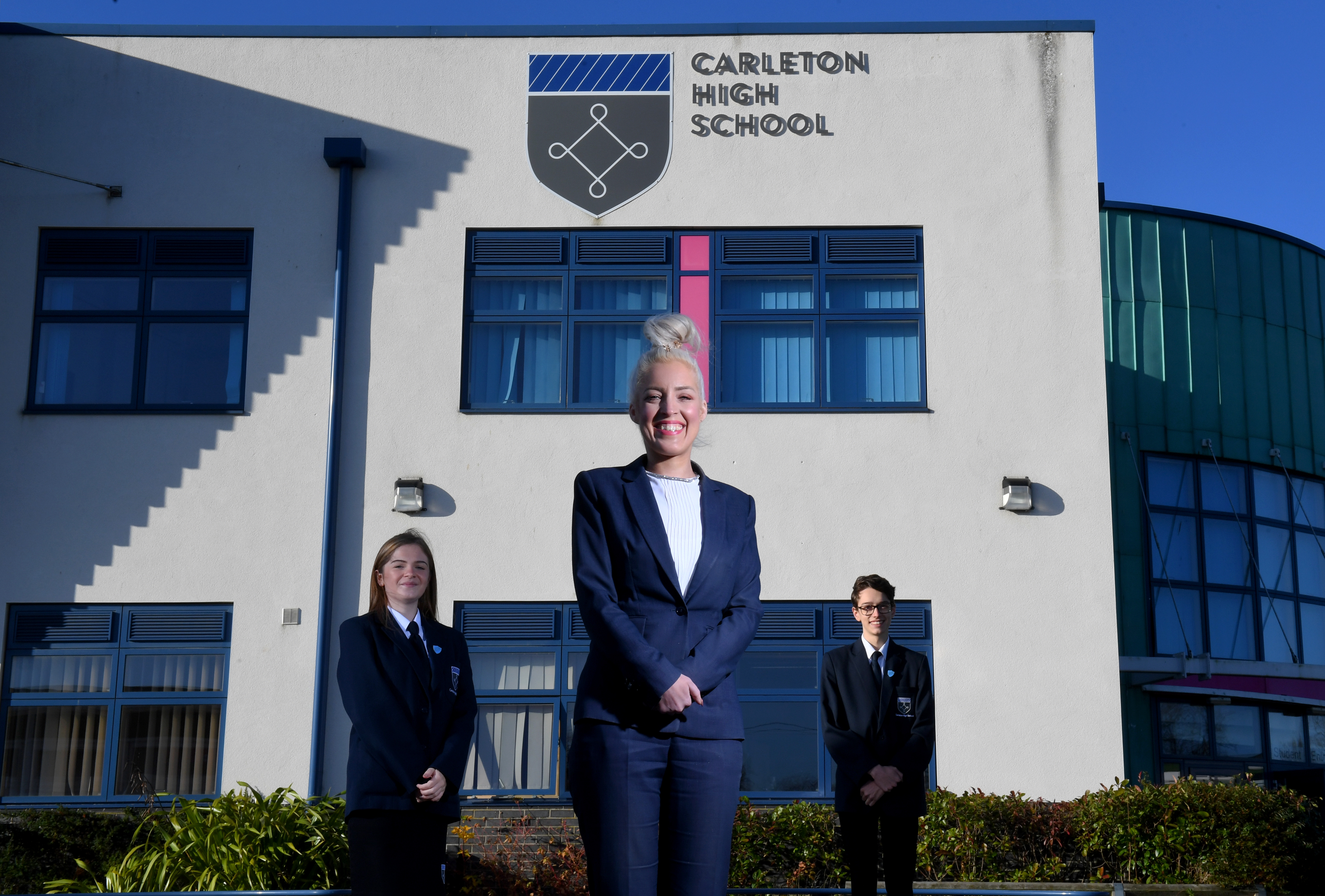 Latest News
17 November 2020
Carleton High School Awarded Most Improved School in North of England
Carleton High School in Pontefract, part of Pontefract Academies Trust, has been hailed as the most improved school in the North of England, according to the Fairer Secondary Schools Index league tables, published by the Northern Powerhouse Partnership The index ranks schools on a contextual progress score that takes pupils' backgrounds into account.  Even prior…
Read more
5 October 2020
First Ever Virtual Open Evenings
Pontefract Academies Trust are delighted to announce that Carleton High School and The King's School will be "opening their doors"…
Read more
Carleton High School
Join our team!
Are you looking for the next step in your career path?
We have an amazing opportunity for a Curric… https://t.co/ELEzUomveN
20 August 2020
Communication from the CEO – GCSE Results
Dear Pupils and Parents/Carers, I wanted to take the opportunity to congratulate all our pupils and their families on the…
Read more
Carleton High School
Join our team!
Are you looking for the next step in your career path?
We have an amazing opportunity for a Curric… https://t.co/ELEzUomveN
Carleton High School
🤔 Why do our teachers love working at Carleton High School?
📽️Watch the video below to find out!
🎬You can see the… https://t.co/HZCT9kCHEw
Carleton High School
Mrs Cobb from our science team has seen the first signs of a shoot from her sunflower seeds! 🌻
Have you planted y… https://t.co/S6PmobBH0j