We are proud to be one of the highest performing schools in the Wakefield authority and are ranked in the top 1% of schools in the whole country for improvements in student progress.
On top of this, our highest achieving student last year scooped a jaw dropping nine grade 9s and a distinction*- well done Spencer!  At Carleton we aim to make success inevitable.
Student Success Stories
We strongly believe we are here to enable each and every one of our students to achieve their full potential, whether they are amongst the top achievers, or for who five passes is their Mount Everest.
Guiding their academic journey, we support, stretch and challenge all students as individuals, helping them to recognise and enjoy real success.  We believe in aiming high and expect high standards and hard work from all who learn with us.  We are rightly proud of and celebrate the results which have come from this commitment to hard work.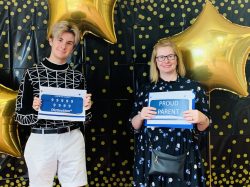 Spencer Pickering
Nine Grade 9s and one Distinction *
Spencer takes his place in history as one of only a few students in the country to achieve the highest possible grades in every subject!
We are immensely proud of Spencer's phenomenal achievement. As of course was his mum, who said "Words cannot describe how proud I am of Spencer, he really deserves it after all the hard work he's put into the last 5 years". We couldn't agree more! Spencer is going on to study Chemistry, Biology and Further Maths at St Wilfred's 6th Form College and hopes to have a career in medicine. Spencer has always demonstrated an excellent work ethic and understands hard work is the key to success.  His advice to other students is "Just keep your head down and nothing is impossible. Revise! Revise! Revise!" Well done Spencer.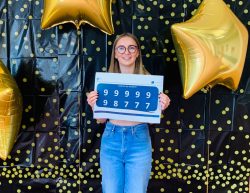 Rosie Arnold
Six Grade 9s, one Grade 8 and three Grade 7s
As well as achieving a fantastic set of results, Rosie epitomises the phrase 'hard work pays off', demonstrated by her exceptional progress score. She has achieved this by following her own advice to younger students which is "Don't give up when things get tough, keep going!" Rosie is moving on to college to study A Levels in Biology, Chemistry and Law.
Her chosen career path is a forensic pathologist. Rosie is another Carleton High leaver who has really made the most of the opportunities available and represented our school in a number of sports. Rosie will look back with good memories of the friends she's made and the good times she's had at co-curricular activities such as the New York Trip. Rosie's Mum and Dad came with her on results day and said "We are amazingly proud of Rosie as always, and how hard she has worked over the last five years at Carleton. Rosie has always worked to 'you get out what you put in' and this has been proved by her amazing progress and results" They also wanted to thank the teaching staff at Carleton with their final comment "Amazing teaching staff with such encouragement, inspiration, drive and enthusiasm"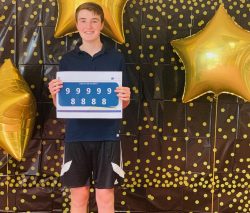 Liam Gee
Five Grade 9s and four Grade 8s
It was fantastic to see our Head Boy, Liam Gee, open his results and be rewarded for all his hard work. Looking back at his fantastic five years at Carleton High, Liam said he has 'happy memories of friends and teachers that will last a life time and has met people who have changed his life.' He is moving onto New College to study English Literature, Maths and History. He is then hoping to go to university, study Law and be a solicitor. Liam has certainly lived by his mantra 'work hard, play hard.' He has always thrown himself into everything, playing rugby for school, winning the Yorkshire Cup and reaching National Cup Semi-Final. As well as sport, he is also a talented actor and featured in many of the school performances. His advice to our younger students is "school is only five years, so enjoy it."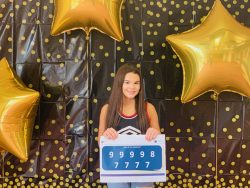 Ruby Horsman
Four Grade 9s, one Grade 8 and four Grade 7s.
Ruby is a driven and determined young women who doesn't let anything stop her achieving her goals. Her future plans are to study A levels at New College in English Language, Law, History and Economics. She is then planning on going to university and becoming a Barrister. Knowing Ruby's work ethic and personality, she will continue to be incredibly successful. The advice she would like to give to younger students to maximise their success is "Enjoy school and work hard" When asked what she has enjoyed most about her time at Carleton Ruby said "I really enjoyed my lessons as teachers were so engaging and kind. I am really proud of my results."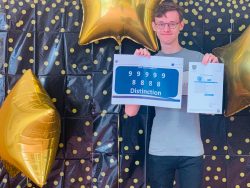 Ben Misson
Five Grade 9s, four Grade 8s and one Distinction *
Ben aspires to become a Genetic Engineer. His outstanding set of results are taking him to New College to study A levels in Biology, Chemistry, Maths and Economics. Reflecting on his time at Carleton High, he said he has enjoyed the opportunity to make lots of new friends, after only one other student came from his primary school. His advice to younger students is "Make sure to commit yourself 100% to your work" As well as that hard work and commitment to work Ben believes preparation is key to smashing those GSCE exams. He said "Don't worry too much about your exams when the time comes. Trust the preparation the teachers have given you" His Mum and Dad were of course full of pride when we spoke to them as Ben picked up his results. "Both of us are thrilled and delighted with Ben's results. He has always been a star and now he has the results to prove it. Thank you to all the wonderful staff at Carleton who helped him get there!"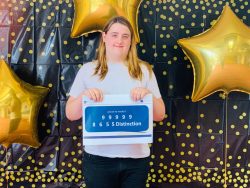 Riley Clayton
Five Grade 9s, one Grade 8, one Grade 6, two Grade 5s and a Distinction
Riley is an amazingly talented mathematician who also loves science. He achieved his Grade 9s in Maths, Physics, Chemistry, Biology and Computer Science. Riley is planning on furthering his passion for these subjects at New College studying A Levels in Maths, Further Maths, Physics and Computer Science. He then plans on pursuing a career in software development. He only had one word when asked about any advice he would give younger students. "Revise!" Riley then went on to explain "It is the most important thing you can do, but don't forget to have some fun along the way!"
Riley's mum said "I am so proud of Riley for how hard he has worked over his five years at Carleton. Thank you to everyone involved in his educational journey, who have nurtured or cajoled him as and when necessary!"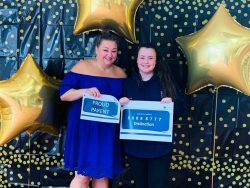 Beth Ellis
Five Grade 8s, 3 Grade 7s and one Distinction
Beth was hugely proud of her excellent set of results, knowing that all her hard work hard paid off. A very proud and emotional Mum said "Beth has worked hard continuously throughout school, thank you Carleton". Beth is moving onto New College to study A Levels in Biology, Chemistry, Spanish and Sociology. She then wants to go to Hull University to study zoology and have a career in animal conservation. Beth said the best thing about her time at Carleton was "making lots of new friends and working with the best teachers!" We also love Beth's advice she wanted to give to younger students, "Revise as often as you can! Don't give up if you don't get what you want, work hard to change your future!" What fantastic advice Beth, we couldn't agree more.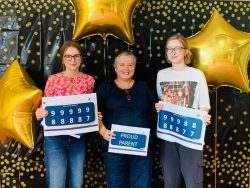 Erin Needham
Three Grade 9s, five Grade 8s, two Grade 7s
Erin is leaving Carleton High and moving onto New College with a fantastic set of results to study Maths, Film and Media. Erin is incredibly creative and wants to pursue that in the future and become a film director. Erin looks back on her time at Carleton with fond memories of her art lessons and school trips. She achieved her success by working hard and always trying her best. Her Mum was with her to celebrate picking up her results and confirmed "Erin put 100% into her work at home, the same as she did at school." We are thrilled that hard work has paid off. Well done Erin, we look forward to hopefully seeing the films you direct in the future.
Olivia Needham
Five Grade 9s, four Grade 8s and one Grade 7.
Olivia has always had a fantastic outlook on school. She decided early on; "you have to go to school, so you might as well try your best, do your revision and homework. If you don't, it's just your own time you are wasting. Just do your best!" Having thrown herself into school life, the thing Olivia was most proud of was 'doing her best.' She said she 'loved the school trips and all her teachers were great, inspiring her love for art and history'. Olivia is continuing that passion at New College where she is going to study A Levels in History, Law, English Literacy as well as Fashion and Textiles. Her future plans are to go to University. With a wide array of talents, Olivia is unsure whether she wants to become a Lawyer or follow her love of history and become an Archaeologist. Whichever path she chooses, with these exam grades and her work ethic, we know she will be a success.
Our Summer 2020 results were predicted to be 'Record Breaking' however our year 11 students did not take these exams due to the pandemic.  Our validated Summer 2019 key headline measures are as follows:
66%
Achieved English and Maths 4-9
50%
Achieved English and Maths 5-9
3.88
Ebacc Average Point Score
17%
Student entered for the Ebacc
Some particular highlights from the GCSE 2019 results are shown below:

Our Biology, Chemistry and Physics results are in the top 10% in the country.

A quarter of all of our students achieved GCSE grades 7-9.

Our students achieved over a quarter of a grade better than their peers nationally, making us the second highest performing Maths department in the Wakefield Local Authority.

We are now in the top 25% in the country for 11 different subject areas including Sociology, Computer Science and History to name a few.

47 grade 9s were awarded (the new, very highest grade achievable) and a third of students achieved at least one grade 8 or a 9.

This measure demonstrates how well a school can support students to achieve beyond the levels that they are predicted from their starting point in Year 7. Carleton High School achieved one of the highest Progress 8 scores in the Wakefield Local Authority; our students achieve better than their peers nationally in all key measures.
To compare our results with other schools you can use the DFE School Comparison website: