We are proud to be one of the highest performing schools in the Wakefield authority and are ranked in the top 1% of schools in the whole country for improvements in student progress.
"On top of this, our highest achieving student scooped a jaw dropping seven Grade 9s, one Grade 8 and two Distinctions – well done Adam!"
At Carleton we aim to make success inevitable.
Student Success Stories
We strongly believe we are here to enable each and every one of our students to achieve their full potential, whether they are amongst the top achievers, or for who five passes is their Mount Everest.
Guiding their academic journey, we support, stretch and challenge all students as individuals, helping them to recognise and enjoy real success.  We believe in aiming high and expect high standards and hard work from all who learn with us.  We are rightly proud of and celebrate the results which have come from this commitment to hard work.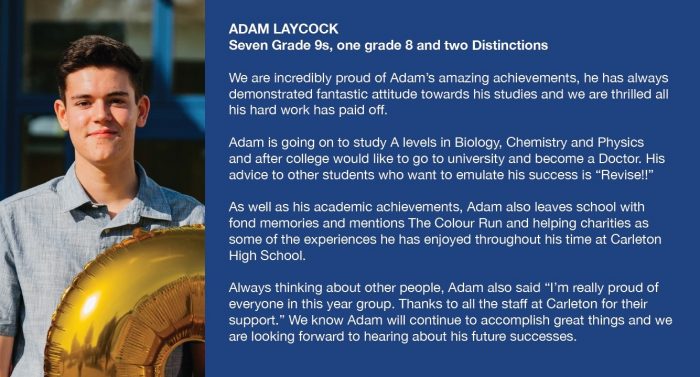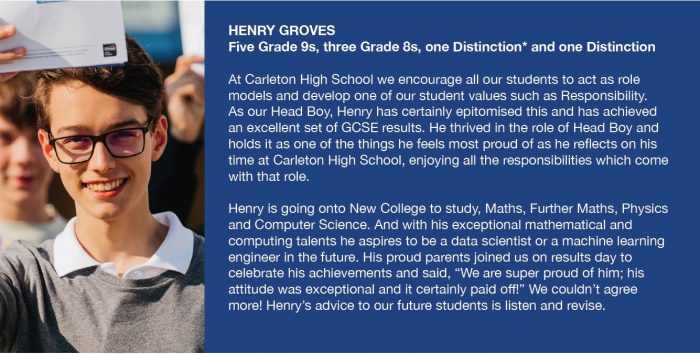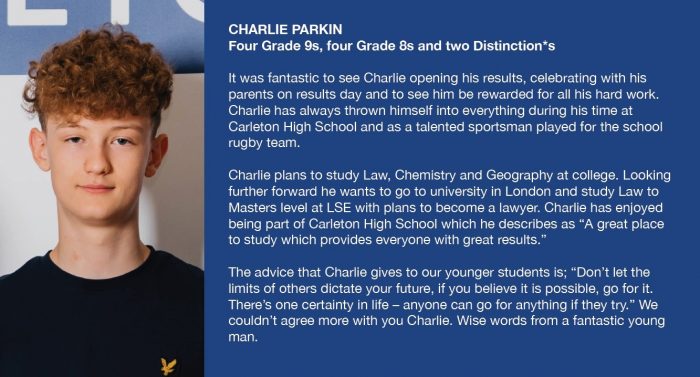 Our Summer 2021 results were predicted to be 'Record Breaking' however our year 11 students did not take these exams due to the pandemic.  Our validated Summer 2019 key headline measures are as follows:
66%
Achieved English and Maths 4-9
50%
Achieved English and Maths 5-9
3.88
Ebacc Average Point Score
17%
Student entered for the Ebacc
Some particular highlights from the GCSE 2019 results are shown below:

Our Biology, Chemistry and Physics results are in the top 10% in the country.

A quarter of all of our students achieved GCSE grades 7-9.

Our students achieved over a quarter of a grade better than their peers nationally, making us the second highest performing Maths department in the Wakefield Local Authority.

We are now in the top 25% in the country for 11 different subject areas including Sociology, Computer Science and History to name a few.

47 grade 9s were awarded (the new, very highest grade achievable) and a third of students achieved at least one grade 8 or a 9.

This measure demonstrates how well a school can support students to achieve beyond the levels that they are predicted from their starting point in Year 7. Carleton High School achieved one of the highest Progress 8 scores in the Wakefield Local Authority; our students achieve better than their peers nationally in all key measures.
To compare our results with other schools you can use the DFE School Comparison website: